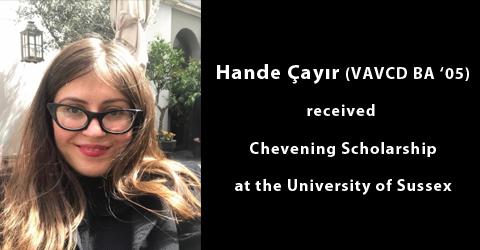 LISTEN
Hande Çayır (VAVCD B.A. '05) received a Chevening Scholarship01-11-2018
Hande Çayır has a B.A. in Visual Arts and Visual Communication Design from Sabanci University, an M.A. in Film and Televison, and a Ph.D. in Communications from Istanbul Bilgi University. Her documentary, Yok Anasının Soyadı (Mrs. His Name, 2012), was shown internationally in film festivals and academic conferences, and focuses on women's surname changes after marriage and divorce. Before academic life, Çayır worked at Warner Brothers, P&G, LC Waikiki, and Whichcontent (a London-based tourism publishing company).
She has volunteered at the Purple Roof Women's Shelter Foundation since 2012. Her work as a human rights, gender equality, and contemporary art blogger at T24 has established her in the journalism community. Now, she is a student in Journalism and Documentary Practice M.A. programme at the University of Sussex through a Chevening Scholarship.
We wish her success in this new opportunity.
http://www.chevening.org/turkey (Deadline for 2019/20 Chevening scholarship applications is November 6, 2018)