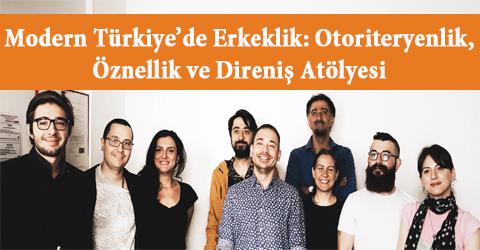 LISTEN
Modern Türkiye'de Erkeklik: Otoriteryenlik, Öznellik ve Direniş Atölyesi01-07-2019
Sabancı, Ecole des Hautes Etudes en Sciences Sociales ve CESPRA işbirliği ile Modern Türkiye'de Erkeklik: Otoriteryenlik, Öznellik ve Direniş Atölyesi
Ecole des Hautes Etudes en Sciences Sociales, CESPRA ve Sabancı Üniversitesi'nin beraber düzenlediği Masculinities in Modern Turkey: Authoritarianism, Subjectivity, and Resistance (Modern Türkiye'de Erkeklik: Otoriteryenlik, Öznellik ve Direniş) başlıklı atölye çalışması Paris'te, EHESS kampüsünde 14 Haziran Cuma günü gerçekleşti.
Sunumların yapıldığı iki oturum ve arkasından soru-cevap ve tartışma bölümü biçiminde gerçekleştirilen atölyede oturum başkanlığını Sabancı Üniversitesi'nden Doç. Dr. Cenk Özbay üstlendi.
İlk oturumda Özbay'ın açılış konuşmasının ardından, Bilkent Üniversitesi'nden Selin Akyüz "Drawing the Boundaries and Protecting the Integrity: Unravelling the Masculinist Expectations in Politics in Turkey"; EHESS'ten Ozan Soybakış "Political Virility as a Cultural Expression of Resistance: The Footprints of Turkish Modernization on Muslim Masculinities" ve Chinese University of Hong Kong'dan Murat Es "For Whom are the Mosques? Constructing Gendered Moral Subjectivities in Turkey" başlıklı bildirilerini sunarak Türkiye'de erkeklik, siyaset, devlet, milliyetçilik, popülizm, otoriterlik, din ve aile ilişkilerine değinen araştırmalarından bahsettiler.
Atölye çalışmasının ikinci oturumunda, University College London'dan İdil Cambazoğlu "Gated Masculinities? A Case Study of Masculinity(ies) in an Elite High-school in Turkey"; Koç Üniversitesi'nden Hilal Dikmen "Male Victimization in the Anti-Alimony Campaign in Turkey"; Bologna University'den Barış Yüksel ve Central European University'den Kubilay Asar "Blazed Masculinities Political and Gendered Subjectivities in Rave Scenes of Istanbul" ve Turku Universitesi'nden İhsan Can Asman "Hauntings of 31: Emergent Masculinities While Watching Porn in Turkey" başlıklı bildirilerini sundular ve Türkiye'de erkeklik kültürlerinin farklı mekânsal ve kurumsal çevrelerde nasıl geliştiği ve değiştiği üzerine yaptıkları araştırmaları hakkında detaylı bilgi verdiler.
Türkiye'de erkeklik çalışmalarının gelişimi ve hangi alanlara doğru genişleyebileceği ile potansiyel araştırma alanlarının tartışıldığı son bölüm, aynı zamanda bu atölyenin kolektif bir yayına evrilmesi için hangi adımların atılması gerektiğinin belirlendiği bir platforma da dönüştü.