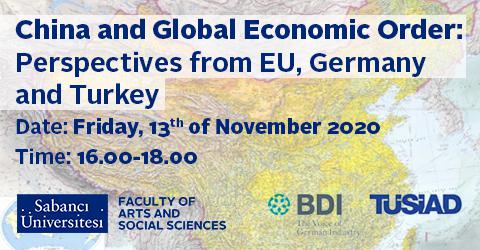 LISTEN
Ekonomi Programı Webinarı09-11-2020
TÜSİAD ve Alman Sanayi Federasyonu (BDI) tarafından Sabancı Üniversitesi Ekonomi Programı ile işbirliğinde "AB, Almanya ve Türkiye Perspektifinden: Çin ve Küresel Ekonomik Düzen" isimli bir webinar gerçekleştirilecektir.

13 Kasım 2020 tarihinde 16.00-18.00 (TSİ) saatleri arasında düzenlenecek webinarda, Çin'in küresel ekonomik düzendeki rolü, AB'nin Çin ile ilişkileri, ABD-Çin arasında giderek artan küresel rekabetin olası nedenleri ve AB üzerindeki ekonomik etkileri ele alınacaktır.

Açılış konuşmaları TÜSİAD Çin Network Başkanı Korhan Kurdoğlu, BDI Uluslararası Piyasalar Bölüm Başkanı Friedolin Strack ve Sabancı Üniversitesi Ekonomi Programı Öğretim Üyesi Prof. Bahri Yılmaz tarafından yapılacaktır. Etkinlikte "Çin ile jeopolitik ilişkiler: Çin sistemik bir rakip mi?" ve "Çin ile ekonomik ilişkiler: Çin ekonomik bir ortak mı?" isimli 2 oturum düzenlenecektir. Bu webinar etkinliğinde sizleri aramızda görmekten büyük mutluluk duyacağız.

Bu konuda Prof. Bahri Yılmaz tarafından hazırlanan "European Union-China Relations in the Shadow of the US-China Conflict" başlıklı güncel çalışmayı da linkte bilginize sunarız.

Toplantı dili İngilizce olan etkinliğin ayrıntılı programı aşağıda bilgilerinize sunulmaktadır. Etkinliğe erişim linki, katılım bildiren davetliler ile etkinlik günü yayından önce paylaşılacaktır.

Zoom uygulaması üzerinden gerçekleştirilecek webinara mobil veya masaüstü cihazlarınızdan bağlanabilirsiniz. Webinara katılabilmek için cihazınıza Zoom uygulamasını kurmanız yeterli olacaktır. Zoom uygulaması ile toplantıya giriş yapıldığı zaman toplantının güvenliği açısından "İSİM SOYİSİM/ŞİRKET" bilgilerinin girilmesi gerekmektedir. Uygulamayı indirebileceğiniz erişim adresini aşağıda bulabilirsiniz.

Webinara aşağıdaki "Kayıt formu" linkinden kayıt yaptırabilirsiniz.

Saygılarımla,
Profesör Bahri Yilmaz

Uygulamayı indirmek için:
https://zoom.us/download#client_4meeting
Kayıt Formu:
https://etkinlik.tusiad.org/index.php?option=com_eventbooking&task=register.individual_registration&event_id=329&Itemid=101
Ayrıntılı Bilgi:
https://etkinlik.tusiad.org/index.php?option=com_eventbooking&view=event&id=329&catid=1&Itemid=101
Program için tıklayınız.