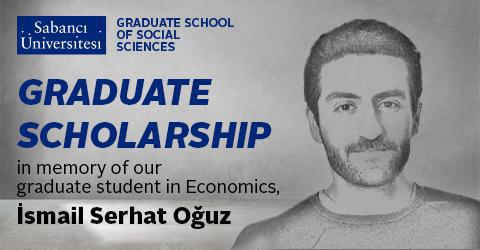 LISTEN
FASS - Graduate Scholarship in memory of Ismail Serhat Oguz19-04-2021
A named scholarship will be granted in memory of our graduate student in Economics, İsmail Serhat Oğuz, who passed away on March 16, 2021.İsmail Serhat Oğuz graduated from our Economics undergraduate program together with a minor in Mathematics in 2019.
The Board of Trustees of Sabancı University adopted the "İsmail Serhat Oğuz Scholarship" to be awarded to an outstanding student accepted into the master's program in Economics. The Dean's Office will designate the award for two years for one student to encompass the duration of the master's education at Sabancı University.
The scholarship carries a tuition waiver, a stipend for 10 months, as well as transportation fees and/or dorm accommodations.