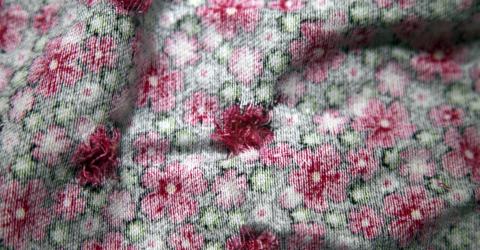 LISTEN
FLOWER WOUND11-03-2019
"Flower Wound" points with three spaces to the many antagonistic points of resistance and struggle that power domains set down, female/male, homosexual/heterosexual, insane/sane, immigrant/local, worker/employer. In the gallery's first room Nurcan Gündoğan's "Silent Requiem" installation derives a shared suffering from personal tragedy. The artist's installation presents a requiem for all "children" who are torn from life, suffer violence and lose their homes, their freedom and their future; it takes shape around a music we see but cannot hear, just as we observe the suffering of others but do not see it. The artist recreates with tiny children's shoes the notation of Gustav Mahler's 1904 lieder setting to music Friedrich Rückert's poetry for dying children. The musical notation represented on the surface of the wall by tiny footprints becomes a silent requiem we see but cannot hear. Nurcan Gündoğan's video and installation titled "Hey Worker" employs a relational technique distant from the didactic to put forth the struggles of workers and their search for justice with the tools of resistance and expression used by those who are victimized and ostracized. The artist's installation carries to the space a stylized representation of a workers protest, the resistance by 132 Flormar workers, the vast majority of them women, who were fired when they joined the Petrol-İş Union. The video also salutes women workers with the image of a woman applying her makeup to the accompaniment of the May Day Poem and the raised voices of women from the Flormar resistance in the background. This poem was written in 1923 by Yaşar Nezihe (Bükülmez), known as the first women to write a Turkish poem for the 1 May Workers and Laborer's Holiday. As the video undermines social judgments directed against the image of woman, it reflects upon our faces the realities of labor and capital, producer and consumption, exploitation and resistance.
The sufferings we have not been able to mourn continue to bleed like open wounds. Femicide is one of the unending miseries of the geography in which we live. With her installation in the second room of the gallery space, "Flower Wound," from which this show takes its name, Neriman Polat constructs a monumental requiem for murdered women. The meters of flannel cloth patterned with flowers, each one individually scraped into the fabric with exquisite care in a kind of ritual, point to each and every day that suffering not mourned creates a new wound. Each flower, like a bullet wound, memorializes women taken from us, lost to us, and the hopes torn from our hands. The discourse of murdered women, frequent and rightfully insistent in Neriman Polat's works, appears in "Barricade" also. The artist brings into the exhibition space one of the "doors" evoking the unseen and unacknowledged suffering that goes on in the eerie vulnerability of "Home." But here behind that door is the image of a woman preparing to defend herself from whatever mortal danger may come from without or within. The woman in this scene, where home is finally a "battlefield," is seen lighting her cigarette behind a barricade constructed of pillows, her weapon by her side. Although the suspense of anticipation continues, the courageous expression on the woman's face tells us that this home sentry duty will continue.
There is a well hiding all subordinated identities, a well in which all individuals are lost, or can be lost... The well is a profound, universal metaphor that signifies darkness, reflects the social unconscious or memory, and transmits the cycle of hidden suffering where silence reigns, but it also reminds us of the principle of hope facing the depth of thought, life and existence. The well constructed by Neriman Polat and Nurcan Gündoğan in the final room of the gallery space is a metaphor, a glance at the source of social wounds and suffering, malevolent, bottomless darkness, nightmares and the painful truth of life—death. But just as the water it holds makes possible the life around it, "Well" echoes the feminine power, struggle and hope that is the source of life.
Neriman Polat (1968, İstanbul) is a graduate of the Mimar Sinan University Department of Painting. She has been producing works of photography, video, text and installation since the mid-1990s. Her works focus on urban transformation, gender, and the mechanisms and violence of power in daily life. Selected exhibits: "Merciless," solo show, Merdiven Art Space 2018; "First Raunt," Galata Rum Okulu 2018; "Hidden in Loss," Karşı Sanat 2016; "Impenitent," Ark Kültür 2016; "Home Watch," solo show, Depo 2013; "Modest View," solo show, C.A.M. Gallery 2010; "Father's Home Apartment," solo show, Pi Art Works 2008; "Dreams and Conflicts" and "In Limbo," Turkish Pavilion, 50th Venice Biennale 2003; "Passion and Wave," 6th Istanbul Biennale 1999. The artist's works have been exhibited in many international shows. www.nerimanpolat.com
Nurcan Gündoğan (1976, İstanbul) is a graduate of the Yıldız Technical University Combined Arts Program in the Faculty of Art and Design. She generally produces installations. She often shapes her works around topics related to women, children, and social violence. She has participated in such shows as "Face Blindness" (Bayan Yanı, 2018), "Utopia" (Tüyap, 2017), "A Room of One's Own" (Ark Kültür, 2017), "Impenitent," (Ark Kültür, 2016), and "Where Fire Has Struck" (Depo, 2011).