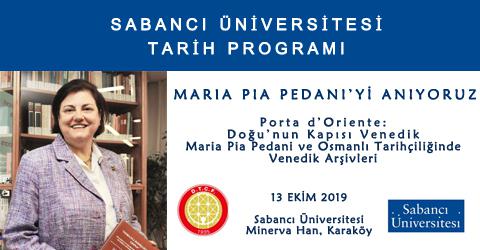 LISTEN
Commemorating Maria Pia Pedani 27-09-2019
You can click here to view symposium program.
For details: www.dogununkapisi.eu
Porta d'Oriente: Venice, the Gateway to the East
Maria Pia Pedani and the Venetian Archives in Ottoman Historiography
On October 13th 2019, the Sabancı University FASS History Program, in collaboration with Ankara University, FLHG Department of Italian Language and Literature, will be remembering Professor Maria Pia Pedani, known for her work that gave direction to studies of Ottoman history; with a symposium in which her students and colleagues will present their research conducted through documents located in the Venetian State Archives.
Professor Maria Pia Pedani lost her battle with a long illness on March 1st in Venice, at only 66 years old. Her final position was in the Asia and Mediterranean Africa department at the Ca' Foscari University, where she taught courses in Ottoman history and the history of the Middle East. During her twenty year tenure in the Venetian State Archives, Maria Pia Pedani played an important role in the organization and cataloguing of archival documents written in Ottoman Turkish and Italian. After taking her position at the Ca' Foscari, she paved the way for students and researchers, and involved many academics in her projects during her final years.
The Sabancı University History Program aims to foster fresh, unbiased and critical visions of the Ottoman-Turkish past that are informed by the novel theoretical insights and comparative sensibilities characterizing leading-edge practice in historical studies. In this regard, it is part of our training process to share with our students the work being done in historical archives outside of Turkey, and the various ways of uncovering information that might amend the one-dimensional, state-oriented view of Ottoman history. By sharing the research of historians whom Maria Pia Pedani introduced to the Venetian archives, the Sabancı University History Program will once again present academics with its innovative and comprehensive view of history, while allowing our MA and PhD students to meet young historians across Istanbul and Turkey.
Venezia, Porta d'Oriente
Maria Pia Pedani e gli Archivi di Venezia nella Storiografia Ottomana
Il 13 Ottobre 2019 il Programma di Storia dell'Università di Sabancı, SSBF in collaborazione con la Università di Ankara, Facoltà di Lingua, Storia e Geografia, ricorderà la professoressa Maria Pia Pedani, conosciuta con i suoi studi che hanno portato un nuovo respiro alle ricerche sulla storia ottomana, con un simposio dove i suoi studenti turchi che sono entrati nel mondo scientifico grazie a lei ed alcuni suoi colleghi presenteranno il risultato delle loro ricerche compiute alla luce dei documenti dell'Archivio di Stato di Venezia.
La professoressa Pedani ci ha lasciato il primo marzo del 2019 a Venezia a 66 anni, dopo un lungo periodo di malattia. Prestando ultimamente servizio al dipartimento di Studi sull'Asia e sull' Africa Mediterranea dell'Università di 'Ca Foscari di Venezia, la professoressa Pedani ha insegnato Storia Ottomana e Storia del Medio Oriente. Maria Pia Pedani, nei venti anni in cui ha lavorato all'Archivio di Stato di Venezia, si è occupata della sistemazione dei documenti scritti in ottomano ed in italiano e nella preparazione dei cataloghi; dopo aver preso servizio all'Università di 'Ca Foscari di Venezia ha aperto la strada a molti studenti e ricercatori e ha incluso ai suoi studi accademici, soprattutto negli ultimi anni, tanti accademici i cui studi aveva seguito con vari progetti.
Il dipartimento di storia dell'Università di Sabancı che mira a creare uno sguardo fresco, critico e senza pregiudizi al passato ottomano, sceglie di applicare i metodi più progressisti, teorici e comparativi per quanto riguarda gli studi storici attuali. Proprio per questo motivo gran parte dell'educazione che diamo consiste di condividere con i nostri studenti del master e del dottorato i metodi per raggiungere i dati che renderanno possibile una riconsiderazione non più unilaterale della storia ottomana, tramite studi fatti negli archivi storici fuori Turchia. Con la presentazione delle ricerche degli storici che hanno conosciuto gli archivi a Venezia grazie a Maria Pia Pedani, l'Università di Sabancı condividerà con gli accademici la sua concezione innovativa e comprensiva della storia; inoltre, gli studiosi di storia di Istanbul e gli studenti iscritti ai programmi di master e dottorato dell'Università di Sabancı avranno l'occasione di conoscere i giovani studiosi di storia che si trovano ormai nei dipartimenti di storia di varie università in Turchia.